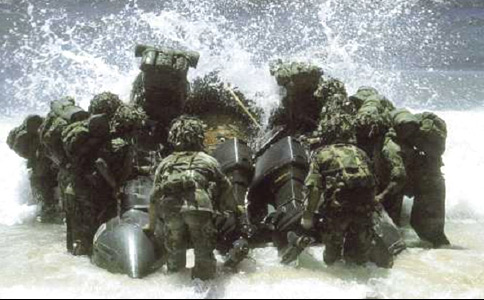 PROFILE: CHRISTIAN GATICA
Director of High Risk Environment Training for Kroll, Latin America

I met Mr. Gatica with other participants of Crucible's "Protective Measures" course last spring. Like all of Crucible's staff, Christian is top notch instructor for combatives as well as one of their training directors.
Mr. Gatica works for Crucible Security Specialists as Director of Training for Latin America. He is in charge of the planning, operation, and security training in the region and is also a Security Analyst for CNN in Spanish. In addition for the past two years he has been an instructor at Crucibles headquarters in Virginia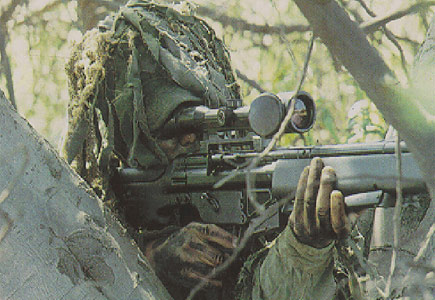 Christian Gatica has been trained and certified in Security Protective Services in high-risk environments, is firearms Instructor for law enforcement and American Armed Forces and close quarter combat and non-lethal weapons instructor, advanced driving instructor, as well as instructor for personal security issues for executives and employees in various Latin America corporations.
During the past year Mr. Gatica has carried out security operations in East Timor, Kuwait, Qatar, Oman, United Arab Emirates, Bahrain, Argentina, Brazil, Mexico, Peru the United States and Chile. This past summer, he taught close quarter combat to Chilean Marine Corps instructors.
Mr. Gatica was born in Santiago, Chile in 1968, and joined the Chilean Naval Academy in 1984, from which he graduated in 1988 as an Officer, first in his class.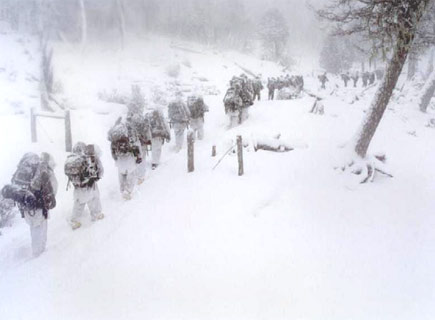 In 1989 he completed his instruction cruise in North America, Asia, and Oceania, obtaining first place in the midshipman program. From 1990 to 1991, he was assigned as rifle platoon commander in Punta Arenas, where he conducted aerial guide courses with the Chilean Air Force, where he obtained first place.
In 1992 he was assigned as instructor of midshipmen in the Esmeralda training ship, which sailed throughout Europe, North and Central America.
In 1993 he conducted the commandos Course at the Marine Corps School and the Free-Fall Parachuting course at the Chilean Naval Seals School, obtaining the first Places in both. Throughout 1994, he was Platoon Commander in the Amphibious Recognition Section in Destacamento IM "Miller".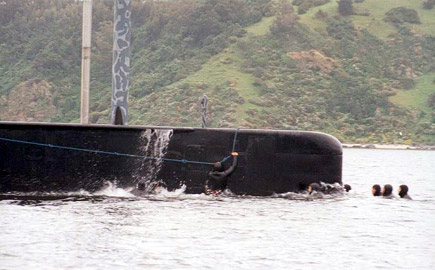 In 1995 and 1996, he attended the Naval Polytechnical Academy, graduating with a weapons engineering degree, majoring in amphibious systems and obtaining first place of his class, as well as being awarded for the best academic military performance at the academy.
In 1997 and 1998, he was commander of the tactical unit of the commandos forces unit, where he conducted the planning, training, and operation of the Marine Corps' first two expeditions to the Plateau of Campos de Hielo Sur (Southern Ice Fields). He also oversaw development of the training and merchant ships boarding operations in support of the maritime authorities, (based on his thesis).
He was also commander for the exchange unit with the U.S.M.C., carrying out combat and survival operations in the jungles of Panama. At the end of his term in the special forces, he organized the first expedition race of the Marine Corps "Eco Comacim," as well as participated in the Eco Challenge Patagonia 1999, as Captain of the First Chilean Team to participate in an Eco Challenge, he finished in 27th place.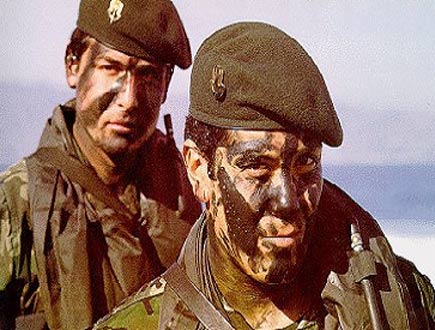 In 1999 he was deployed to carry out the tasks of Division Officer and Cadet Instructor at the Chilean Naval Academy "Arturo Prat," a position he held until the end of the year 2000.
In 2001, for personal reasons, he requested his voluntary retirement from the Marine Corps, and moved to Virginia to work at Crucible Security with Kelly McCann. Mr. Gatica is married and has three children.
*******
*Due to Christian's busy schedule, we were only able to conduct a short interview. We hope to extend this in the future.
Realfighting You mentioned that you enter these international eco challenges?
Christian Gatica Yes, these races are run by teams of four, with at least one of the members of the opposite sex. Distances of about 250-400 miles are covered, either hiking, mountain biking, ocean kayaks, white water kayaks, horse-back riding, climbing, and a rope course, accompanied by a compass and a map. It's a non-stop race, where team strategy is very important, in order to decide when to stop and when to eat. Finally, after the five or seven days (that it takes to cover the distance), you understand that the challenge is more mental than physical.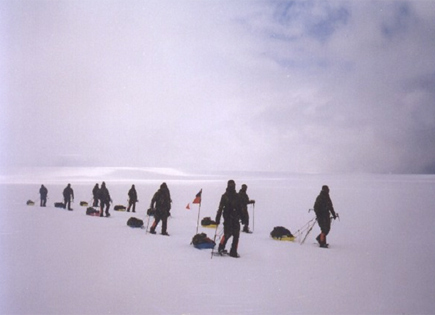 RF How long have you been doing it?
Christian I ran my first race in 1998. Then the Eco Challenge in 1999. I have been doing this for over 5 years.
RF Have you just competed recently?
Christian I did, in January of this year at the Volcanoes Challenge, which covered 280 miles in order to cross the Andes Mountains, from Argentina to Chile.
RF When did you join Crucible?
ChristianIn March of 2001.
RF What led up to you joining the organization?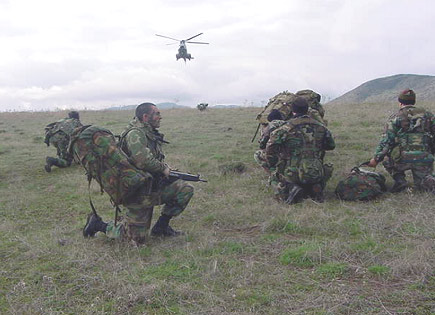 ChristianThe truth of truths is, my wife, she's half Chilean and half American, that led us to America and start a new page of our lives here. Professionally, I knew about Crucible (formerly Personal defense Measures) for more than 7 or 8 years. It was a great challenge for me to leave the Marines in Chile, my family, friends and move to the US to work at a company so specialized, but at the same time, this was not far from what I did for 17 years with the Commandos.
RF How did you meet Kelly, tell me the story?
ChristianI met Kelly through my best friend, Jack Stradley, whom I met in Chile 10 years ago when he was part of the exchange program between the USMC and the Chilean Marines. One day Jack told me about his plans to work with his great friend Kelly and create Crucible. He offered me the opportunity to try to join Crucible, especially for my knowledge of Spanish. So, one day I found myself standing in Kelly's office, I introduced myself without saying much, my English was not the best after being in the USA for only two months. At that moment, I understood that I was going to work a lot and very hard to earn his confidence, but he seamed like a good guy. Once again the Challenge of being there and becoming a Crucible instructor gave me the strength to keep going.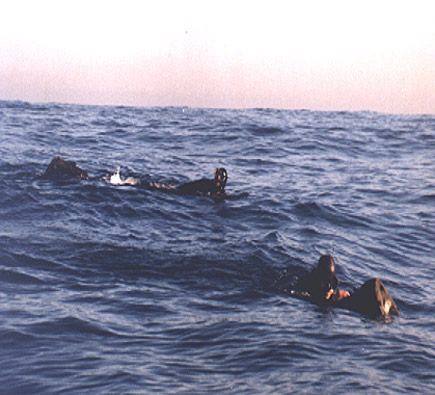 RF How long have you been working there?
ChristianIt's going to be three years in March of 2004.
RF What are your specific duties there?
ChristianI'm the Director of Training for Latin America. At the same time, I'm a Combative, shooting, evasive driving and protective services instructor. Once in a while I travel overseas to conduct protective services, especially to Latin America.
RF Tell us about your childhood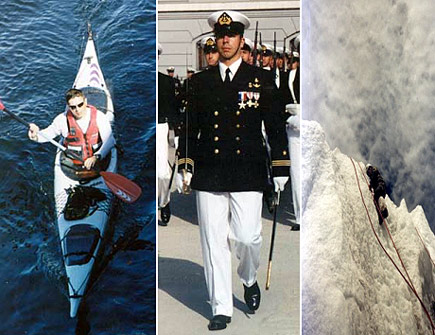 Christian My father was a Police Officer in Chile, so I lived all over the country. Remember that Chile is a long country, with deserts, mountains, and glaciers. I was always addicted to sports and adventures under the blue skies. I loved going on expeditions, but not in groups like the boy scouts. I wanted to do it alone or with just a couple of people, to explore things like the caverns by the Pacific Ocean, and things like that. When I was 15, I went to the Naval Academy to be a Navy man.
RF Tell us about your military career
ChristianFive years in the Naval Academy. I graduated in the First Place of my class; an instructional cruise in the Pacific, North America, Asia, and Oceania; two years in the Patagonia, Chile, as a Platoon Commander; another trip around the world, Europe, Central and North America, this time as an Instructor; Commandos Course, Special Forces, First Place; Free-Fall and Military Parachute Course; one year as a Recon Platoon Commander; two years at the Amphibious War Academy; two years as a Special Forces Unit Commander, in charge of two expeditions to the Southern Ice Fields, Chile; Survival Training in the jungles of Panama, with the U.S. Army's Special Forces; and my last two years as an Instructor in the Naval Academy. They were 17 good years with excellent experiences.

RF When did you get involved with fighting, martial arts, what style?
ChristianWhile I was in the Naval Academy, I practiced Judo. My instructor was a very nice Japanese guy. Then in the Marine Corps I practiced Martial Arts, but not with much interest. The day I met Kelly I understood that learning Combatives (the original way) was my task to earn his confidence.
RF What's your impression, good and bad about various fighting styles?
Christian Many styles are good if you practice with dedication and passion, however under "REAL" circumstances, combatives will save your life!